Mapped: Where are the World's Ongoing Conflicts Today?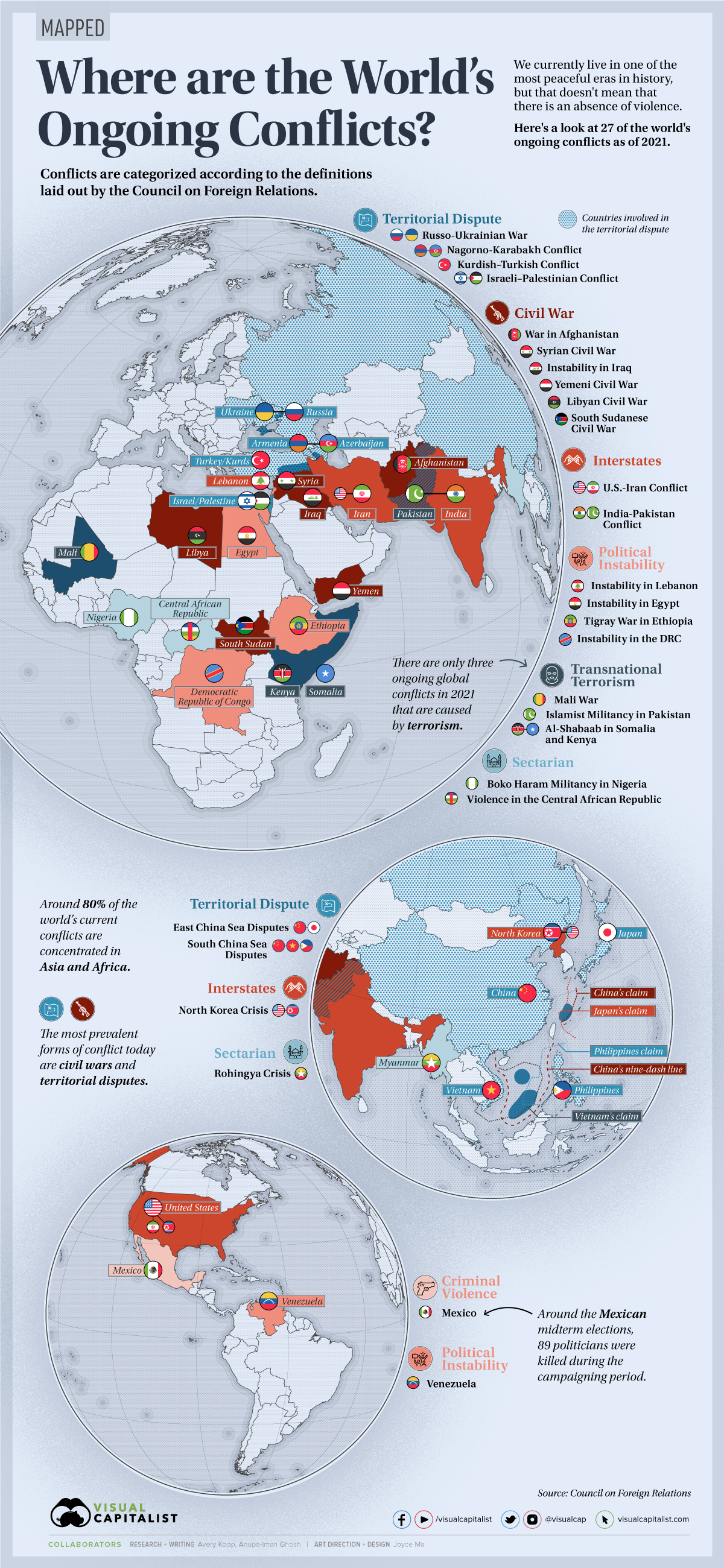 Where are the World's Ongoing Conflicts Today?
We live in an era of relative peace compared to most of history, however, this does not mean that there are no conflicts in the world today.
This map using data from the Council on Foreign Relations (CFR) reveals where the world's 27 ongoing conflicts are today, and what type of conflicts they are.
Note: conflicts are categorized by definitions laid out by the CFR.
Detailing the Conflicts
Many people alive today have never lived through a war on their country's soil, especially those in the West. But conflict, wars, and violence are by no means things of the past.
According to the Armed Conflict Location & Event Data Project (ACLED), as of Q2'2021 alone:
Violence against civilians resulted in over 5,000 deaths worldwide
Battle related deaths numbered over 18,000
Explosion/remote violence led to more than 4,000 deaths
Riots resulted in over 600 fatalities
Most of the world's conflicts are concentrated in Asia and Africa and the most common forms are territorial disputes and civil wars. While terrorism often strikes fear in people, only three of the world's ongoing conflicts are linked to terrorism, according to the CFR.
Conflict Name
Type
Countries Involved
Civil War in South Sudan
Civil War
🇸🇸 South Sudan
War in Yemen
Civil War
🇾🇪 Yemen
Civil War in Libya
Civil War
🇱🇾 Libya
War in Afghanistan
Civil War
🇦🇫 Afghanistan
Civil War in Syria
Civil War
🇸🇾 Syria
Instability in Iraq
Civil War
🇮🇶 Iraq
Criminal Violence in Mexico
Criminal
🇲🇽 Mexico
Confrontation of U.S. & Iran
Interstates
🇺🇸 United States
🇮🇷 Iran
Conflict of India & Pakistan
Interstates
🇮🇳 India
🇵🇰 Pakistan
North Korea Crisis
Interstates
🇺🇸 United States
🇰🇵 North Korea
Violence in the DRC
Political Instability
🇨🇩 DRC
Instability in Egypt
Political Instability
🇪🇬 Egypt
Political Instability in Lebanon
Political Instability
🇱🇧 Lebanon
Instability in Venezuela
Political Instability
🇻🇪 Venezuela
Tigray War in Ethiopia
Political Instability
🇪🇹 Ethiopia
Boko Haram in Nigeria
Sectarian
🇳🇬 Nigeria
Violence in Central African Republic
Sectarian
🇨🇫 Central African Republic
Rohingya Crisis in Myanmar
Sectarian
🇲🇲 Myanmar
Nagorno-Karabakh Conflict
Territorial Disputes
🇦🇲 Armenia
🇦🇿 Azerbaijan
Conflict in Ukraine
Territorial Disputes
🇺🇦 Ukraine
🇷🇺 Russia
Israeli-Palestine Conflict
Territorial Disputes
🇮🇱 Israel
🇵🇸 Palestine
Turkey & Armed Kurdish Groups
Territorial Disputes
🇹🇷 Turkey
South China Sea Disputes
Territorial Disputes
🇨🇳 China
🇻🇳 Vietnam
🇵🇭 Philippines
Tensions in East China Sea
Territorial Disputes
🇨🇳 China
🇯🇵 Japan
Destabilization in Mali
Terrorism
🇲🇱 Mali
Al-Shabab in Somalia
Terrorism
🇸🇴 Somalia
Islamist Militancy in Pakistan
Terrorism
🇵🇰 Pakistan
As an example of a more typical conflict, Myanmar's civil unrest began in February 2020 when the military overthrew the democratically elected government and arrested the country's leader Aung San Suu Kyi. The civilian population has been protesting heavily but to no avail. According to a BBC report, more than 860 people have been killed and around 5,000 have been detained.
This is just one of the many examples of persistent violence today including recent events like Mexico's midterm election violence, Ethiopia's fighting in the country's Tigray region, and the fighting between Israel and Palestine over the Sheikh Jarrah evictions.
Finally, though the United States military has now withdrawn from Afghanistan, and the Taliban has taken control of the country, the outlook for the country remains uncertain.
War and Peace
While there are conflicts today, deaths from violence and wars have and wars have decreased over time. For example, battle death rates in state-based conflicts have reduced significantly in a period from 1946 to 2016.
However, according to the UN, although battle related deaths have been decreasing, the number of conflicts occurring in the last few years has actually been on the rise (they have simply remained less deadly). Most conflicts have been waged by non-state actors, like organized criminal groups and political militias.
The UN found that the most common causes of conflict today are:
Regional tensions
Breakdowns in the rule of law
Co-opted or absent state institutions
Illicit economic gain
Scarcity of resources exacerbated by climate change
Traditional war between countries and war-related deaths may be becoming a thing of the past, but the threat of violence is still very real. Many countries know this as they continue to build up armies and spend significant amounts on military and defense.
The Future of Warfare
War and conflict are still extremely relevant in the 21st century and impact millions of people. However, traditional warfare may be changing its shape and may become less deadly as a result.
For instance, issues like climate change will create further exacerbations on conflicts, and new forms of technological and cyber warfare could threaten countries' elections and manipulate populations.
How Do Chinese Citizens Feel About Other Countries?
What is the Chinese public's view of world powers? This visual breaks down Chinese sentiment towards other countries.
Public Opinion: How Chinese Citizens Feel About Other Countries
Tensions over Taiwan, the COVID-19 pandemic, trade, and the war in Ukraine have impacted Chinese sentiment towards other countries.
This visualization uses data from the Center for International Security and Strategy (CISS) at Tsinghua University to rank survey responses from the Chinese public on their attitudes towards countries and regions around the world.
Chinese Sentiment Towards Other Countries in 2023
In the Center's opinion polls, which surveyed a random sample of more than 2,500 Chinese mainland adults in November 2022, Russia came out significantly ahead.
Just under 60% of respondents held Russia in a favorable view, with 19% seeing the country as "very favorable." Contrast that to the mere 12% that viewed the U.S. in a positive light.
Here's a closer look at the data. The percentages refer to the share of respondents that voted for said category.
Country/Region
Very
Unfavorable
Somewhat
Unfavorable
Neutral
Somewhat
Favorable
Very
Favorable
🇺🇸 United States
37.4%
21.7%
28.7%
9.2%
3.0%
🇯🇵 Japan
38.4%
19.1%
29.4%
10.7%
2.3%
🇮🇳 India
25.4%
25.2%
41.5%
6.7%
1.3%
🇰🇷 South Korea
17.4%
21.0%
47.6%
11.8%
2.1%
🇪🇺 European Union
9.3%
15.6%
57.6%
14.1%
3.3%
Southeast Asia
7.1%
13.1%
59.5%
16.8%
3.5%
🇷🇺 Russia
3.0%
4.8%
33.7%
39.4%
19.0%
Japan ranked just below the U.S. in terms of overall unfavorability, though a slightly higher share of respondents saw Japan as "very unfavorable" compared to America. This is likely due to both modern tensions in the East China Sea over mutually claimed islands and historical tensions over the Sino-Japanese Wars.
Chinese sentiment towards India was also unfavorable at just over 50%, though notably the country also received the lowest favorability rating at just 8%.
Additional Survey Findings
The survey also found that 39% of Chinese people get their information on international security from Chinese state-run media (mainly through TV), with an additional 19% getting information from government websites and official social accounts. Conversely, only 1.7% get their news from foreign websites and foreign social media, partially due to the Great Firewall.
When asked about different international security issues, the biggest shares of Chinese citizens ranked the following as their top three:
Pandemics (12.9%)
Disputes over territory and territorial waters (12.9%)
China-U.S. relations (12.0%)
The pandemic's high score reflects the harsher impact COVID-19 had on China. Chinese borders were shut for years and the public faced intense measures to reduce spread.
In terms of other world events, the majority of Chinese people align with a more "Eastern" viewpoint. For example, in regards to the war in Ukraine, the report found that:
"About 80 percent of the respondents believe the U.S. and Western countries should be held most accountable [for the war], while less than ten percent of the respondents argue that Russia is mainly responsible."– Center for International Security and Strategy, Tsinghua University
Overall, the views of the Chinese public reflect the opposite of those found in many Western countries. They provide an important insight that it is not just the Chinese government holding particular views about the world, but the Chinese public as well.